Abe Peck is The Sole Living Jewish Survivor From An Entire Town in Poland
ABE-VS-ADOLF is the real life story of Holocaust survivor Abe Peck who repeatedly cheated death at the hands of the Nazis. As only a teenager, Abe was starved, shot, tortured and imprisoned for 5 years, in 9 different camps.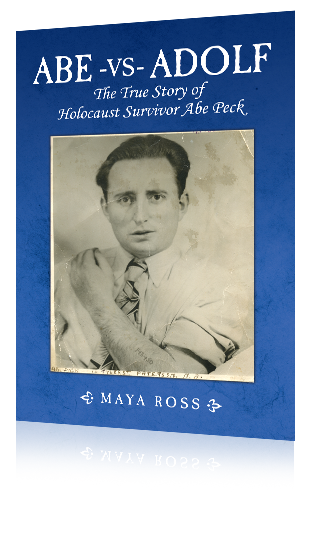 Abe-vs-Adolf is Available in 3 Formats: Print Book, eBook, and Video Book
Print book (Paperback) – 298 pages, including over 160 pictures to help illustrate Abe's amazing tale. Special features: 25 Things You May Not Know About The Holocaust and Glossary of Foreign Terms.
Ebook – For most eBook readers and devices.
Video Book – For Apple products. Available in the iBooks Store. Special Features: 33 short videos which correspond to each book chapter; Three Generation Interviews With Abe, his son and grandson; 70th Anniversary Commemorative Tour of Auschwitz Today.
Why get the video book? Because it is a unique multimedia work that combines text, photographs, and videos to:
Bring Abe's story alive, making it more interesting, real, and memorable.
Attract and educate a broader audience using a mode that appeals to younger generations;
Create a permanent vehicle for preserving and distributing true and compelling testimony in an easy viewing format;
The video book is an invaluable tool to engage readers and viewers for generations, long after survivors are gone. There can never be enough stories about the Holocaust, and Abe's is a powerful one that should be seen and heard by all.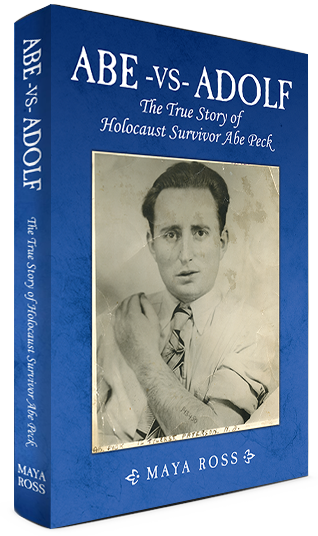 Survivors of the Holocaust are nearing extinction. Even though they still live among us, there are many people who deny the Holocaust occurred. With the perilous state of the Middle East and antisemitism rampant worldwide, it is more important than ever to educate future generations to the horrors of persecuting a targeted group.
The world was captivated by Anne Frank's diary which abruptly ended when she was sent to Auschwitz at only fifteen years old. She could no longer tell us what happened to her after she was taken prisoner, but where her story leaves off as a young teenager, Abe's begins...
Abe Peck's incredible tale is captured in Abe-vs-Adolf, which combines dozens of authentic photographs with WWII European history to provide a one-stop Holocaust education. If you're only going to read one book on the Holocaust, make it this one!
And if you want to hear Abe, himself, tell his unbelievable story, there's no substitute for the video book edition!
Get in Touch
If you have questions or comments please use the form below.